This post covers some rather detailed analysis and contrast of lakefront properties in the Heron Lake PUD and the public lakeband.  For those of you that want the abbreviated version, read the next paragraph.  Those that want the details, continue below.
What would Heron be like if it had started as a public lake?
That is a common question on the tours, people wishing to contrast what they experience in the lakeband and what this new private lake concept will be.  We are asked that so often that we thought it'd be interesting to actually represent what we had so purposefully avoided in our planning, so we laid out Heron Lake as if it had started in the "bungalow era." And presto, a lake that looks suspiciously like all of the other public lakes to our north and west.  Without the master planning and lot sizes that matched the current lifestyle needs, this incredible site has now been burdened with an additional 332 residential lots.  For perspective the PUD itself only has 179 residential lots total.  Notice the lakefront lot size difference, this will help with understanding the true size of Heron Lake compared to the public lakeband.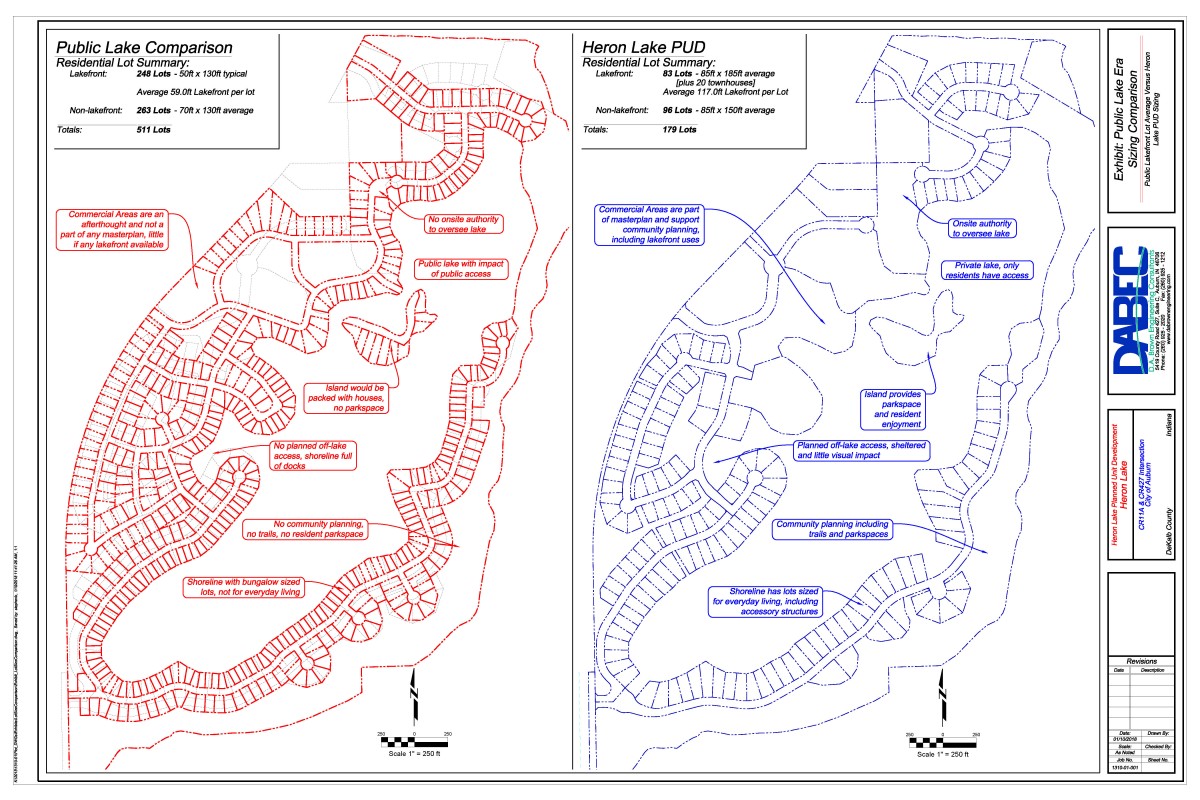 You can download a PDF form of the graphic above here.
What happened?
There are now 248 lots on water, instead of the 83 lots in the PUD filing, averaging around 60 feet of shoreline per 50 foot lot, which is the lakeband average.  For comparison the PUD lake lot average is around 115 feet of shoreline per 85 foot lot.  This increase in density is also seen off-lake with the remaining off-lake ground being gobbled up piecemeal and now looks like a patchwork quilt of various developer visions.  This tangled web of housing results in 511 lots total, instead of the 179 lots in the PUD, and roughly adds one more house per acre on the entire site!  Including the water!  We have lost the commercial benefits of proximity and traffic flow patterns, with those locations now an afterthought and spread amongst the residential housing.  The island is now hidden under 10 lots instead of parkspace and a four season rental pavilion.  There are no trails snaking around and through the natural elements of the site, so there is no ready access to the 65 acre Cedar Creek park corridor or Island.  Given the current lakefront situation, there probably aren't even sidewalks along the road, which is winding and unsafe for sharing access to pedestrian, biking, etc.  It was actually rather depressing to see Heron Lake with this packed-in, stacked-up layout given the amount of time and effort expended to avoid this type of build-out.  But one positive thing stood out to us, the lake size was more readily apparent since the lot sizes were now comparable and relatable to those on the public lakeband.  For those that have been having issues visualizing and comparing the true size of the lake, this exhibit may help you immensely.
What is typical lakefront sizing?
If you've been on a tour then you know that we discuss the tens of thousands lake properties to the north and west.  This region is typically called the lakeband and is generally limited to Steuben, LaGrange, Noble, and Kosciusko Counties.  During our due diligence and planning we performed extensive studies on the typical lakefront lots and what was required for that lifestyle.  What we found provided the basis for our planning and hopefully helped us avoid the pitfalls of current public lakefront issues.  Those issues can be: elongated house spaces due to lot width, need to store items off-lot, lack of garage space for cars, no appreciable front or lake yard,  sight picture encroaching from adjoining lots, no sidewalks or pedestrian options, etc.
These issues should come as no small surprise as the overwhelming majority of public lake lots were sized and designed in another era and for much different clientele.  Probably the best phrase that sums up that previous planning is "bungalow-style intermittent vacation get-aways".  Those lots, averaging 50 feet wide and 110 feet deep, are typically much too small for our current lifestyle and housing expectations.  Since starter home lots in subdivisions are now 65 feet by 125ft it is easy to see the problems.  There is no space for garage facilities (either side-to-side or in depth of lot) and the lot itself does not allow any meaningful outdoor spaces.  The bungalow planning was not community focused so there is virtually no sidewalk inter connectivity or park spaces for pedestrian enjoyment.  The bungalow focus was solely putting the smallest possible house on the smallest possible lot at the smallest possible expense.  It was not intended to support day-in, day-out living.
But my public lake lot isn't the typical size?
You are in the group that lies outside the average.  When you have tens of thousand of lots, there will be those that lie outside the normal range.  Generally speaking a 50 foot by 110 foot criteria would encompass over 65% of the public lakefront lots.  There are 10% smaller than 50 x 110 and 25% that are larger.  It is a telling statistic that the larger lots are much more desirable and are still usually shallower in depth than the average Heron lake lot.  The usability of the lakefront is also a key component as the public lakes are virtually all marsh based and have extensive portions of shoreline that is un-usable. The proximity to easy travel routes is also critical.  Heron Lake is around 20-25 minutes time to downtown Fort Wayne.  This is easily half of the average travel time across the lakeband.
What lifestyle does Heron support?
Heron Lake is intended to be a primary residence location where the residents can Live, Work, and Play (LWP).  This one location LWP focus allows for better time efficiency and overall lifestyle enjoyment, as shifting from Live to Work and then Play can be made at a moments notice.  The lots are sized to accommodate accessory structures and house sizes that reflect the needs of the owners.  The parkspaces, trails, and other sitewide amenities provide the framework to enjoy and experience the site in a manner of your choosing, not what you are left with or have to make do with.  The commercial options on-site should help with daily and weekly needs, hopefully limiting those last minute runs that can consume so much time.  And last but not least is the lake itself, this all sports private lake will be the lifestyle focus for many.  We are excited about the activities that everyone will be doing!
We hope you enjoyed the exhibit and discussion above.  It is intriguing (to us at least) to think about what Heron Lake would have looked like during the bungalow era.  The many families that still enjoy the secondary residence aspect of lake life must contend with those limitations on a weekly basis.  But the draw of the water and enjoying nature outweighs those problems.  And for many it is also a family tradition and opportunity to spend time together.  Take advantage of those moments as you can.    Hopefully Heron Lake will enable our residents to focus more on the enjoyment and leave some of those headaches behind.   Don't forget to schedule your tour and experience Heron Lake first hand!