These past months have been an absolute whirlwind. Between preparing construction documents for our sections to be constructed this year and trying to keep up with inquiries, we have been thankfully quite busy. However, the web update could wait no longer. Even if the sunny day that surprised us wasn't ideal, we were going to get those drone photos that everyone keeps asking us for.
"Show us the houses under construction." This is common request and we have complied, see below.

The image above shows the current homes under construction with the marketing sheet perspective for comparison to the right. Note the apparent size comparison between the houses, Bob Buescher's model home on Lot 1 is only slightly smaller in square footage than the house on Lot 19. And Lot 19 isn't even a third of the way up the lake! It is quite exciting seeing the house starts and we are looking forward to a few more in these upcoming weeks.
"Show us what the houses look like from the north basin." This is another typical request. Given the length of the lake and distance to travel around, very few people make it all the way to the northern end. Unless you've been on a tour, you probably haven't been on the 3 mile loop all the way around.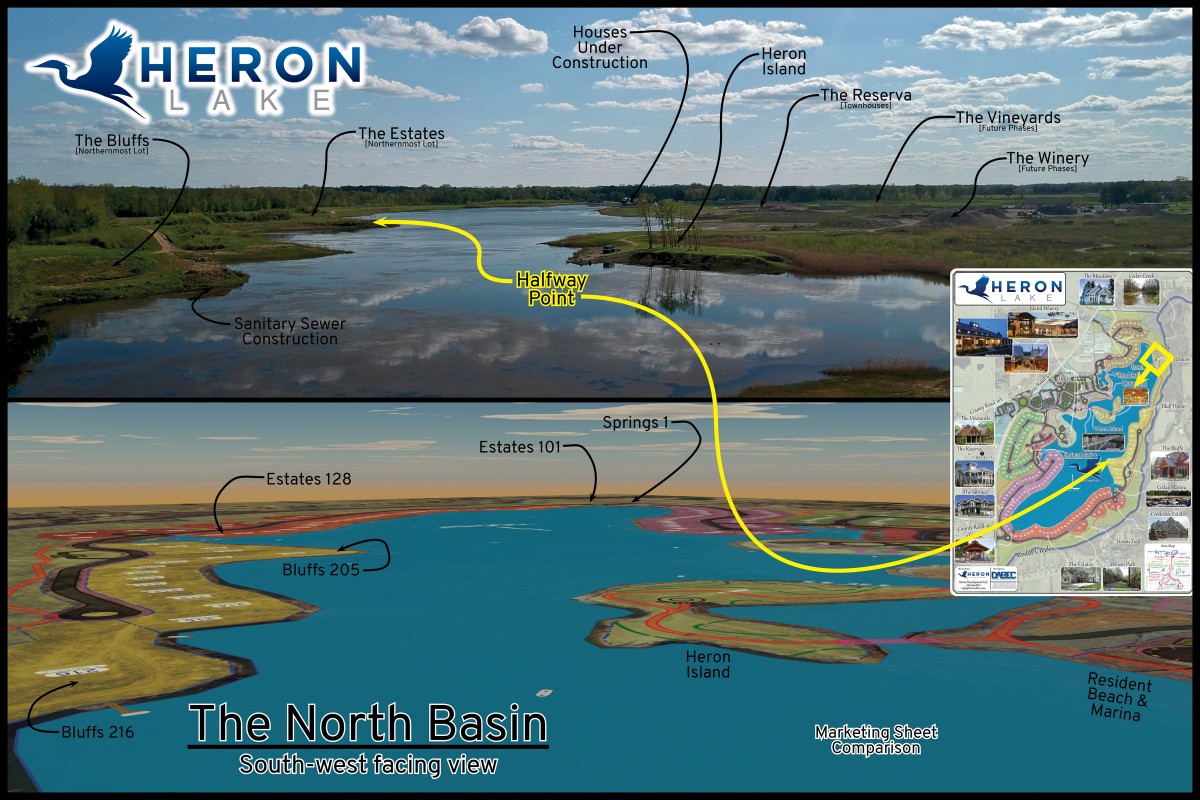 As you can see from the image comparison above, the other reason we don't typically post a lot of pictures from the north end is because you can't see the homes to the south. They are basically a mile away and quite difficult to pick out of a picture. But hopefully the comparison above will demonstrate relative sizes and new perspective for most of you.
Thanks to everyone that have provided feedback on our townhouse planning and also attended the roundabout hearings. We still have not fully committed to the roundabout but hope that it will be possible. That intersection treatment is the best solution for this unique location.
Our website and marketing package is currently being overhauled with the new sections that will be available for transfer this year. We are looking forward to sharing our updated planning and timelines soon! Join our mailing list to stay up-to-date and don't forget to schedule your free tour. As the weather permits your tour may also include a boat ride. Enjoy the sun while it lasts!